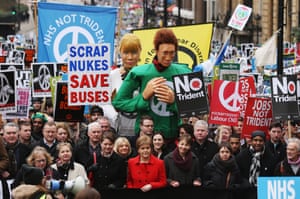 Saturday 27th February was a day of activity for Canterbury District Green Party members. Several marched with thousands of others in London against the renewal of Trident, joining the leaders of three political parties and the Green MP for Brighton, Caroline Lucas.
It was
Britain's biggest anti-nuclear weapons rally
in a generation.
Five who stayed in Canterbury helped to collect items for the Food Bank at Waitrose supermarket throughout the day. 750 items and
£269.03p in cash
were donated, making it a highly successful collection.